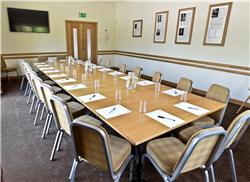 Our Presidents Room is air conditioned and provides the ideal environment for breakfast or all day meetings. It is fitted with a wall mounted Wi-Fi TV to facilitate inter-office meetings.
We offer a variety of buffet menus or you can eat in our dining room where a choice of hot food prepared by our experienced and talented chefs is available. We will be very happy to discuss your individual requirements.
The room is equipped with an intercom to our bar so that you can order coffee, drinks etc without interrupting the flow of your meeting.
For more information please contact the Office on 01702 582205, Option 5
or email admin@thorpehallgc.co.uk